26 Best WordPress Themes for Musicians (2017)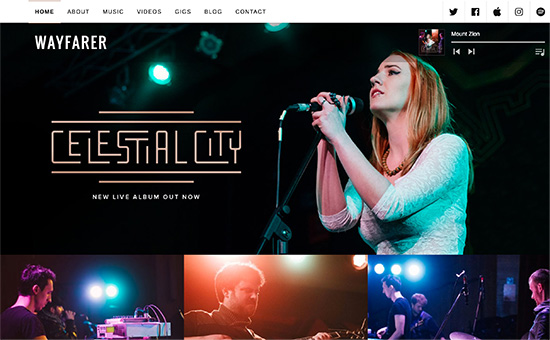 Want to build a website for your band? Not sure which is the best WordPress theme for musicians and band websites? Most musicians and bands rely on their social media following on Twitter, Facebook, and Instagram. However, as you grow it becomes essential to have a website. In this article, we will showcase the best WordPress themes for musicians and bands to promote their music.
Getting Started with a WordPress Website for Musicians
WordPress is the best platform for musicians and bands to build their website. It allows you to embed your music, sell tickets, and integrate your social media without too much technical knowledge.
To start a website for your band, the two things you will need is a domain name and web hosting. Your domain is the address for your website (such as google.com). Web hosting is where your website lives on the internet (this is where your files are stored).
We have a detailed guide on how to choose the best WordPress hosting and how to pick the best domain name. But if you don't want to read that, then you can skip right to our recommendation.
We recommend using Bluehost because they are the official WordPress.org recommended hosting provider. Also, they're giving our users a free domain name and 60% off discount on their hosting plans if you use our Bluehost coupon code.
After that you can follow our step by step guide on how to install WordPress.
Once your site is up and running, you will be able to select a WordPress theme for your website. Select one of the themes listed below and then see our beginner's guide on how to install a WordPress theme.
Let's take a look at some of the best WordPress themes for musicians and bands.
Wayfarer is a WordPress theme built specifically for musicians, bands, and record companies. It features a modern look with tons of features for a music related website.
It has built in audio and video libraries which allow you to showcase your work anywhere on your website. It has custom made music and video players with support for single or multi-track playlists.
It also comes with a management area for gigs so that your followers can find where you will be performing next and buy tickets. Despite so many advanced features, it is still very easy and painfree to setup.
Amplify is a beautiful WordPress theme for musicians. It is highly customizable with custom headers, backgrounds, color choices, templates, multiple layouts, and live customizer.
It comes with gigs management, audio player, playlist management, and custom …read more
Read more here:: http://www.wpbeginner.com