How To Promote Affiliate Offers On Facebook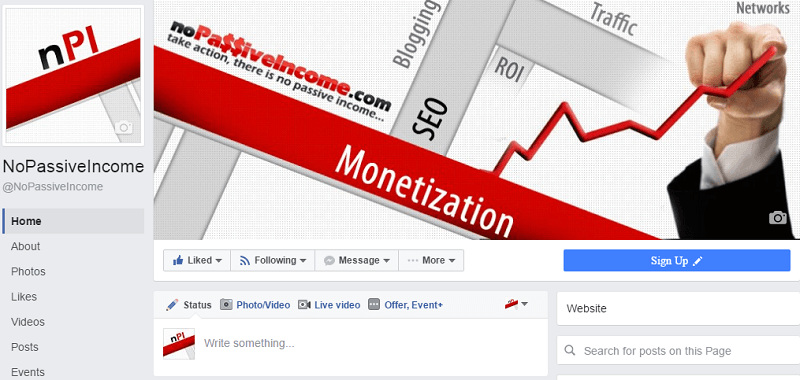 Using Facebook to promote your website and drive traffic to the products and services that you're an affiliate for is one of the best ways to quickly generate income.
However, many people promote their websites on Facebook in the wrong ways, which usually leads to them being labeled as a spammer.
There are quite a few different ways you can drive traffic to your site from Facebook and make money from your affiliate offers, without developing the reputation.
So before you start getting blocked from your favorite pages, or tossed out of your favorite groups onto the curve, follow these suggestions, implement the strategies I'm giving you, and then use Facebook to drive massive amounts of traffic to your affiliate links.
First, Build Your Own FB Page
Ok, there's a bit of a caveat to this one. Facebook has recently implemented changes to their algorithm that makes it harder for people that have liked a page to actually see the content that the page is producing.
With them limiting the organic reach of pages on their platform, many people have resorted to "boosting" posts and paying for advertising to increase their reach. This is one way to do it, however there are cheaper ways you can make sure people that have liked your page will see the content you're producing.
The best way to make sure people are seeing the posts that you're publishing is to get them to interact with your posts, either by commenting, liking, or sharing them. As your engagement rate goes up, your organic reach will increase.
However, if you're not able to increase your organic reach, you can boost your posts to make sure they're getting out to your audience, while also targeting new audiences that are similar to the organic audience you've already built.
Start Your Own Group
Facebook Groups are the new Pages, and allow you to reach more of your audience without being forced to pay for it. While this may not always be the case, for the time being Groups are doing great, and are fairly easy to grow.
Most groups are growing organically, however there are some marketers that are paying for boosted posts that contain links to their groups, and are seeing a massive influx of new users as a result.
When you publish a new piece of content to your group, you can almost guarantee that at least 40% of the people in your group will see it, where less than 10% of the people that have liked your page will see it.
You can't just publish content, though, and hope to get the results that you're looking for.
Provide Useful Tutorials
If you want to maintain the reach, whether on your Page or in your Group, you're going to need to make sure that you're publishing content that people actually want to see, click on, and read.
Then you can parlay your content into your affiliate links and connect the two together so you can eventually make sales.
People love original, awe inspiring, emotion inducing content, and are more than happy to click it and read it, but if they feel like you're being a marketer, or trying to pitch your products and services, they're going to turn off and make it harder for you to make the sale.
To give you an example of what I'm talking about, let's assume you're running a Page or Group based around motorcycle racing enthusiasts.
You can create a piece of content that teaches them how to change out the spark plugs and wires on their motorcycle. Since you know that the people on your Page or Group are going to be interested in learning how to do it, you can create an in-depth tutorial for them.
Then, as you work through the tutorial, you can create links to products that they may use while they're changing out their spark plugs and wires, and a portion of the people reading the tutorial will click the links to take your recommendations.
As long as you're providing value first, and not making the tutorial specifically about promoting your affiliate links, you'll have a much easier time promoting the content across other Pages and Groups, too.
You also won't be labeled as a spammer. People understand that marketers are trying to make money, and if you bake the affiliate links into the content inconspicuously, you don't have to worry about getting tossed out of other Groups, or blocked on Pages that you're trying to share on.
If you're providing valuable content that people want to read, here are 31 more ways to increase the chances that you'll generate revenue from the people you've worked so hard to bring onto your website.
Partner With Pages that Have a Built-in Audience
One of the best ways to grow your own Group or Page, or to work out deals with Page and Group owners is to partner with them, and then cut them in on the profits that you're generating.
Many owners and administrators are open to the idea of you providing valuable content to their audience, especially if you're going to share the profits with them.
You can't just reach out to the owners and suggest this arrangement, though. You're going to need to build a relationship with them, and show that you are truly interested in providing valuable content, instead of out to simply make a quick buck off their audience and then move onto the next.
This strategy works best if you already have a Page or Group with a built-in audience. You can cross-promote each other's groups, and then not have to share in the profits with the owners of the Pages or Groups you're trying to promote your content in.
Engage People That Comment, Like and Share
When you're promoting content in other people's groups, you're going to end up getting people that …read more
Read more here:: No Passive Income