What can you learn from small business digital marketing trends?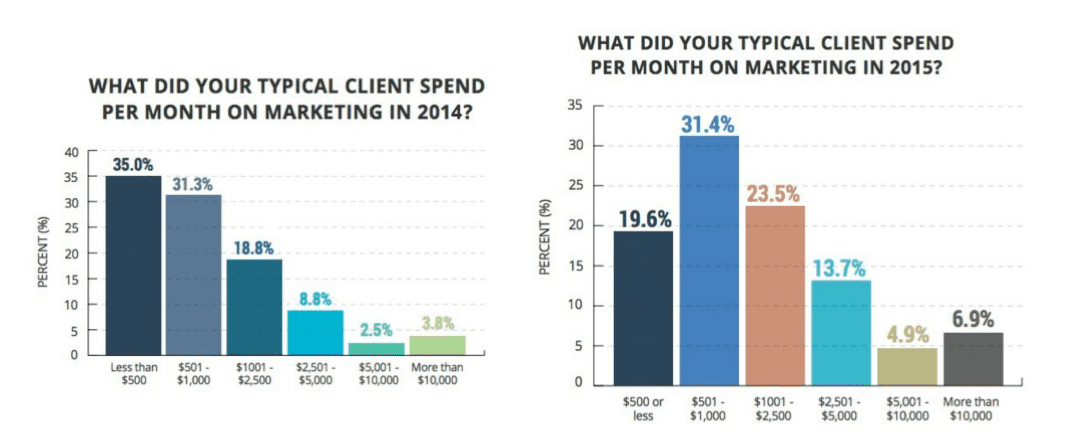 Agencies can use data to plan for the coming year, and to improve digital marketing services
You don't have to search far to find information about the marketing budgets of the mammoth corporations, like Proctor and Gamble and Verizon. However, the typical US marketing agency has small business clients with small budgets—details about the marketing budgets of these smaller businesses is hard to come by.
For the past two years, HubShout has surveyed small to mid-size marketing agencies and the data from the surveys shows where their small business clients are investing their dollars, and how much they're investing in each service. The survey of 200 professionals who deliver online marketing services to small businesses provides plenty of data that is useful for small to mid-size digital marketing agencies. In addition, this article provides helpful tips on selling and improving digital marketing services.
First, Get a Piece of the 28 Million
The HubShout survey found that small to midsize agencies struggle with finding new leads, which is interesting when you consider how many potential clients are out there. The Small Business Association reports that 28 million small businesses currently operate in the US. There's plenty of work to go around, but finding the small business owners who are likely to be ready to buy into digital marketing is hard work.
Digital Marketing Spend Continues its Upward Trend
HubShout's survey respondents reported that their clients spent more on digital marketing in 2015 as compared to 2014. We do our surveys after the year has based to establish annual budgets, so the data on 2015 spending comes from early 2016 to give a proper picture of spending across the year rather than just estimates.
This is not a new trend. According to Advertising Age, digital marketing spending went from $6.2 billion in 1999 to $25.6 billion in 2009. There is every reason to believe that digital marketing industry will continue to grow as more and more people spend more and more of their time online, although that's not to say there won't be some push back as traditional methods respond to the competition.
The #1 Digital Marketing Service Is….
The largest chunk of the small business marketing budget for the past two years went to website development.
Even so, many small businesses still don't understand that an SEO, PPC or any digital marketing campaign can only be successful with a website that is designed to convert. Digital marketing professionals don't want to turn down business but they know that sending traffic to a lousy website is going to end with an unhappy client who may be inclined to trash the agency all over the web. Instead of setting yourself up for bad reviews (that never go away), or turning down work, educate the client on the importance of a website that converts. And if you don't offer website design, outsource the work, or partner with a website design agency that you trust. If a business owner is not willing to invest in a website that you feel comfortable promoting, it's best to walk away.
Mobile is Mandatory
A mobile-friendly website is perhaps more important for a small local business than it is for a large business. According to this consumer survey:
94% use a mobile phone to search for local businesses.
While conducting a search for local goods and services, 78% of mobile users discovered a new business – one they didn't know existed.
The most important takeaway from the survey: businesses that are lacking a well-designed, mobile responsive website can lose nearly 50% of their potential customers.
SEO – Still Not Dead
We keep reading about the demise of SEO but SEO is still very much with us. Small businesses continue to see SEO as a basic need. As indicated in the graphs above, in 2014 and 2015, SEO accounted for about 26% of the marketing budget.
Links were and still are a big factor for SEO (search rankings). For proof on that, read Moz.com's study entitled Can You Rank in Google Without Links? New Data Says Slim Chance.
The Missing Ingredient
A few years ago, Google essentially said, "Create great content, share it and the links will come." But the links didn't come, as confirmed by this Buzzsumo study. Turns out, Google's recipe was missing a key ingredient: Link Outreach. If you create great content, post it onsite and share it on social media, you have not completed the job. To do it right, SEO requires great content PLUS link outreach.
Look to link outreach experts like Brian Dean for some of the best advice on link outreach. It's important to understand that link outreach is not easy; it requires more upfront planning to locate the sites on which you want to get a link and to find contact information for the people who Brian Dean refers to as your "linkreators."
It's also important to manage expectations. You won't get a response from everyone. Be prepared for a variety of scenarios:
Some who respond will link to the content.
Some will request a unique article on the topic that they can post on their blog and link to the original source article.
Some will tweet or share your content on social media
PPC Comes On Strong
HubShout's survey shows that PPC made a big leap from 2014-2015. In 2014 businesses allocated about 12% of their budgets to PPC. In 2015 that number nearly doubled, to 23%. It could be that agencies are doing a better job of educating clients on the value and affordability of PPC advertising and more are buying into it. Or, perhaps businesses are catching on to Facebook PPC which tends to be less expensive and can be a great lead generator, if done right.
Facebook is No AdWords
No doubt, many agencies jump into Facebook advertising with just a cursory understanding of how it works. AdWords experience does not translate to Facebook. An agency that wants to add Facebook to its service offerings must learn the platform and understand the big differences between AdWords and Facebook PPC.
AdWords PPC is about …read more
Read more here:: smartinsights